Our Office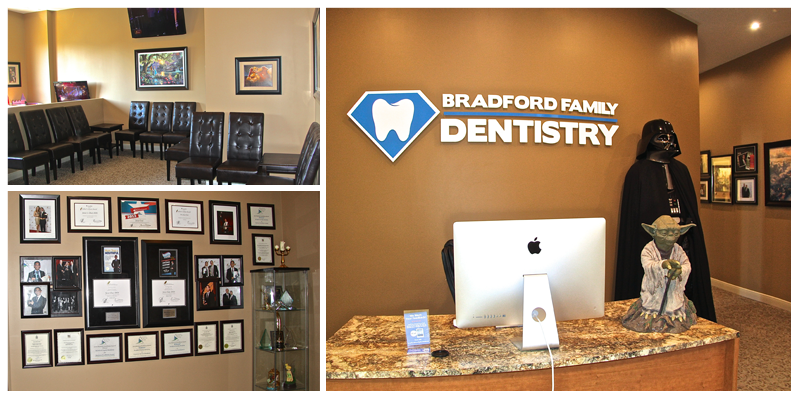 Our New Office is Ready for You! After years of planning and preparation our new office is finally ready! On Wednesday June 25, 2014 we opened our new office and the feedback has been outstanding. The office is designed to be efficient and more organized and Super Fun! We now have a very spacious waiting area, and kids play area.
Each of our treatment rooms are now themed as well with unique memorabilia geared specifically to the room you are being treated in. If you love movies and celebrities we have a Hollywood Smiles room with autographs galore, including one signed by the cast of the Avengers! We also have a Celebrity room which features a special piece signed by all the James Bonds. If you love the Lord of the Rings and Hobbit movies, we have a special Middle Earth room for you.
Guys, we even have a sports room which features special autographed memorabilia like a Bobby Orr Jersey, Team autograph from the 1993 World Series Blue Jay Champions, Michael Jordan signed Basketball and many more unique items. There is a special Star Trek room for our "Trekkies" which has a special piece signed by all the Captains! We even have a Star Wars room which features many statues, and a special piece signed by the entire original cast! We also have a special Sci Fi room, with a special autograph from Sigourney Weaver, and for our Dr. Who fans, one signed by Matt Smith and Karen Gillan.
Although I love all the rooms, my personal favourites are the Superhero room, the Disney Princess room and the Disney room. The Superhero room features many superhero statues including a tribute to the Avengers and special and unique art. The Disney Princess room features many disney dolls, some extremely rare. It also has a special stain glass replica of the final scene from Beauty and the Beast. The Disney Room, features 2 ultra rare dolls of Elsa and Anna from the very popular movie Frozen, as well as many disney statues, including a Giant Mickey Mouse!
We've put a lot of effort in to making the office super fun, and entertaining and we hope you enjoy your new Dental Home. Did I mention the life size Darth Vader and Yoda in the waiting room? There's lots to see at the new office and I invite you to come in for a visit!